Sirha Lyon is the world reference event for Food Service and hospitality. It gathers all the actors of this environment. Its visitors discover, and get inspirations to think about the business and the opportunities of today and tomorrow. Because Sirha Lyon brings together in a single physical space innovations, visions, exchanges of knowledge and major competitions allowing everyone to integrate the new configurations of an ecosystem in constant evolution.
May 2023
Synetam (ex. Syneg and Unitam) and GL events are pleased to announce they have entered a partnership agreement. The opening menu includes Sirha Lyon's international appeal, the promotion of Sirha Europain, organising the VALO RESTO PRO© trophies and a shared vision of the industry.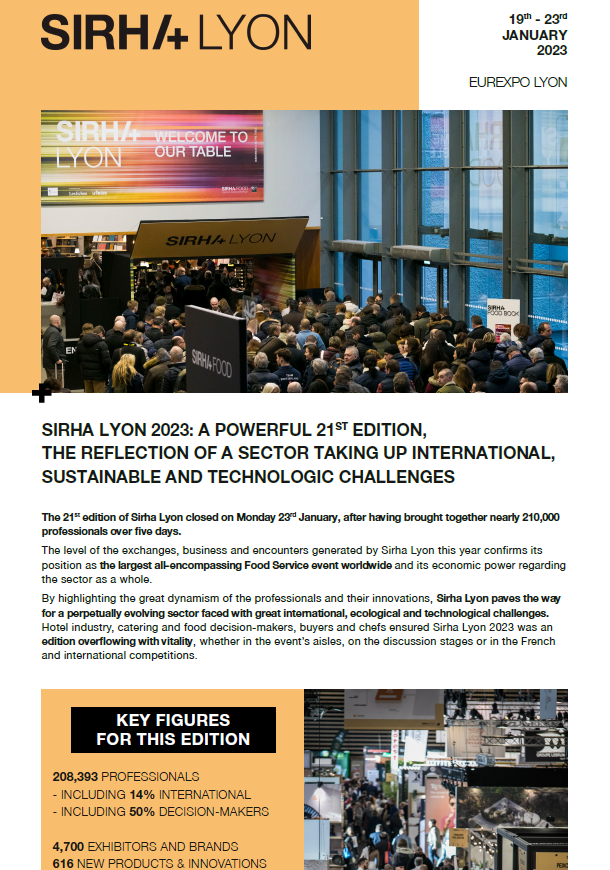 January 2023
Sirha Lyon 2023 : a powerful 21st edition, the reflection of a sector taking up international, sustainable and technologic challenges
The 21st edition of Sirha Lyon closed on Monday 23rd January, after having brought together nearly 210,000 professionals over five days. The level of the exchanges, business and encounters generated by Sirha Lyon this year confirms its position as the largest all-encompassing Food Service event worldwide and its economic power regarding the sector as a whole.
Decembre 2022
Discover the 12 winners of the Sirha Innovation Awards 2023
The Sirha Innovation Awards reward the year's best products, materials, equipment and new technologies in the world of catering and food.
Octobre 2022
WELCOME TO OUR TABLE
In Europe, the summer of 2022 was a resounding success for the catering, hotel, food and tourism sectors. In France, for instance, extremely positive figures once again underline the recovery of an entire sector, which has been heavily impacted over the last two years.
September 2021
HISTORIC TWENTIETH EDITION MARKED BY THE PRESENCE OF THE PRESIDENT OF THE FRENCH REPUBLIC
After five days of exchanges, the twentieth edition of Sirha Lyon – the leading professional fixture for all the players in the Food Service, catering and food sectors – drew to an end. This return-to-work edition met everyone's expectations.